---
Return to Home Page
---
DAVID LEE TUCKER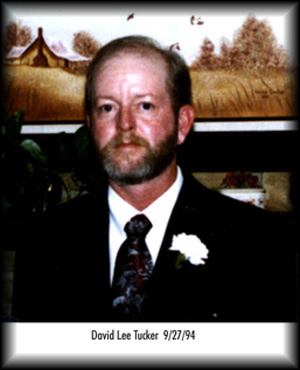 ---
ON JULY 21, 2000, DAVID DIED AS A RESULT OF COMPLICATIONS FROM A BIOPSY ON A BRAIN TUMOR. HE HAD LEARNED OF THE TUMOR ONLY TWO WEEKS EARLIER. HIS FUNERAL WAS CONDUCTED AT THE BARTLESVILLE CHURCH OF THE NAZARENE ON JULY 25, ONLY ONE DAY AFTER WHAT WOULD HAVE BEEN HIS 47th BIRTHDAY. BURIAL WAS IN THE ETHEL REECE CEMETERY AT BARNSDALL, OKLAHOMA. BOTH OF DAVID'S KIDNEYS AND CORNEAS, AS WELL AS HIS HEART WERE TRANSPLANTED.
---
Obituary from the newspapers
DAVID LEE TUCKER
July 25, 2000 - David Lee Tucker 46, of Bartlesville, Oklahoma, died at 8:00 a.m., Friday, July 21, at St. Johnís Medical Center in Tulsa.
Services were held Tuesday, July 25, 2000 at The First Church of the Nazarene with Dr. Randy Schuneman officiating. Final committal rites were accorded Mr. Tucker in the Ethel Reese Cemetery in Barnsdall, Oklahoma with arrangements under the direction of Walker-Brown Funeral Home of Bartlesville.
David was born July 24, 1953 in Pawhuska, Oklahoma to Joe and Ramona (Napier) Tucker. He was a Truck driver for OTRX out of Olathe, Kansas.
David is survived by his parents; Joe and Ramona Tucker of Bartlesville, one brother and sister-in-law; Ron and Carol Tucker of Barnsdall, one sister & brother-in-law; Pat & Bill Sanders of Woodward, Oklahoma, nieces & nephews; Scott and Shelby Tucker of Barnsdall, Leslie & Daniel Sanders of Woodward and his former wife Vicki Frisinger of Charleston, West Virginia. He was preceded in death by one brother, Billy Joe Tucker.
David was a strong believer in organ donation and his family carried out his wishes.
---
BOTH OF DAVID'S KIDNEYS AND CORNEAS, AS WELL AS HIS HEART WERE TRANSPLANTED. HIS LIVER WAS DONATED TO OKLAHOMA FOR RESEARCH.
---
One of David's friends, Chuck Green, has taken David's little dog, Lucy, to Denver, CO., for his daughter Brianna. She really has a good home there and Chuck has a web page dedicated to Dave and Lucy. You can see it by clicking on the following:
David's Tribute
---

---
David had been driving large semi trucks for about 18 years. He logged several hundred thousand miles going from coast to coast.
For the past five years, David's little dog, "Lucy" rode with him every place he went.

---
Return to Home Page
---
kn5w@cableone.net